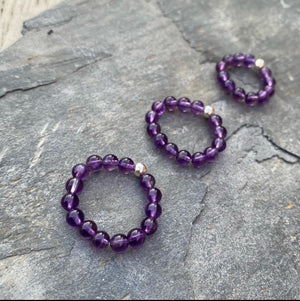 Gemstone Rings
---
I design my Beaded Gemstone Rings to stretch to suit most sizes.
Colourful Gemstone Rings by Bonita Keay
These rings are great for stacking to get the most out of crystal healing with a powerful gemstone representing each of the seven main chakras. If you'd prefer a smaller stack, my Citrine and Aventurine rings can work well together for spiritual grounding and releasing your potential. I also make bespoke jewellery, so if you can't see the gemstone you were hoping for, use the chat bubble to enquire.